I am a Certified Hair Extension and Color Specialist with over 20 years of expertise in Hair Fusion & Keratin Bond, Tape, Styles, Up-do's, Highlights and Make-up consulting.

I work in a very beautiful salon located in Aventura Florida. I have been doing hair since 1994. I graduated from natural motion beauty academy in New Jersey. I've been in the Aventura area for ten years and am certified with great length hair extensions. I'm extremely detailed and one of the fastest hair stylists with extension application and I offer an extremely gentle removal.

I decided to practice cosmetology because I love making people feel good and look beautiful. I wanted to express my creativity, impress the world through my wonderful hair styles, and encourage everyone to be the greatest individual that they could be."

I love my profession, and I'm very passionate about it. I love to be able to create something that's makes someone else happy and beautiful.

As a Certified Hair Extension Specialist I understand extensions are revolutionizing hair fashion. Political figures, Celebrities and Corporate Executives increasingly use them to achieve a noticeable change of look, which inevitably wows the public.

With hair extensions you can bring about changes in style that can be subtle or extreme -- it's just a matter of what you're looking for. I offer a large variety of styling options that will not cause irreversible changes to your natural hair. You can opt for changes in length and thickness, and choose styles that are straight, curly or wavy.

Think about what you want your extensions to do for you. Then, keeping your hair goals in mind, review your options below and decide what kind of upkeep and financial commitment you want to make.
Possible Goals

    Get a temporary change in appearance

    Add fullness

    New long-lasting look

    Add length

    A dazzling look for a special event (weddings)

    Add highlights

    Cover up or fix a hair mare

Clip in extensions:Custom made to match your color and texture, they are the most temporary and re-useable type of extension. I will measure your head to create the right amount of new hair and teach you how to place the extensions.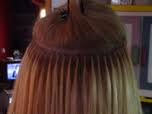 Bonding: A method that is used for temporary extensions when you want to add length or volume for a few days or for a special occasion. This method works well for creating an up-do on someone with short or medium length hair. Your new hair is on a weft (hand knotted on a length of mesh fabric). Sections of the weft are attached in a row directly to your hair with special hair glue. This allows the hair to lie flat on the head. This method will last until your next shampoo and pieces can be removed with any oil base product or bond remover.

The sew-in method (some other names include wefts, integration, braiding or plating): For people who want to add length or volume to their hair for approximately 4 to 8 weeks. It is a great way to try out long hair while you grow out your own. Small cornrows are braided into your hair and then a weft of hair is sewn with a needle and thread to the braids. These extensions can be washed and styled like your own hair. Sewn-in extensions should be removed by your stylist for best results.

Strand-by Strand (also called micro link, fusion, cold fusion, keritin bonding, Brazillian or mico braiding): These applications provide the most natural and undetectable look of all of the extension methods, and can last up to six months with some interim maintenance. This type of extensions is most popular with celebrities. You can achieve a subtle or extreme change with this high-precision method. Individual strands of hair are applied to your own hair and are held with a special adhesive, which allows the hair to move just like your own. You can wash and style it or even pull it back into a ponytail.

Custom hairpieces can be made just for you. They are a fabulous quick fix for an instant touch of glamour any time you want. These pieces can be fitted exactly to your head to work with your precise hair color and texture.

Pony tails or simple attachments: Fun and fabulous pieces usually added with a big clip or band attachment.

   Tape on extensions: This sheer method of taping the extension is a durable quick way to add length and fullness. 

In Conclusion

Now that you have defined your personal hair goals and understand the extension methods available, it's time to schedule your consultation with me! This is where you discuss your best options based on expert assessment of your natural hair and what you want to achieve. Bring pictures if you see a look that you like in a magazine. Lets discuss what type of extensions are right for your hair type and what is best for you based on your level of commitment. Ask questions about anything you want to know. 

Plan to spend 2 to 6 hours with me while having your new hair applied, depending on the method of application and how much hair you are adding. A 50% deposit is required at time of booking to reserve your time.

My process
1: Identify your goals

2: Make an appointment for a consultation

3: Bring pictures of the hair you want. Don't worry about wanting too much the sky is the limit. Any change here is possible!

4: Discuss the following:

    Why you want extensions

    Your face shape

    Matching the color and texture for your extensions to your hair

    Your budget

    Maintenance for your hair (how often do you color? Do you use relaxers or perms?)

    Maintenance for your extensions (how much and how often are prepared for?)

5: Make a decision. Which entails making a deposit, ordering the hair and making your appointment.

6: Watch while you are getting transformed and please ask questions along the way.

7: Learn how to maintain your new beautiful hair, which means understanding:

    How to wash and condition your hair

    How to comb your hair

    How to style your hair.

    Have the right tools to do the job including brushes, blow dryer, curling iron or flat iron.

    Use the right products, which is an essential part of maintenance.

Talk to me about  styling. Request a lesson if needed. I am here for you.

I will make sure you have a !!!